The IFRS 15 revenue recognition standards will impact internal finance processes and financial information systems, especially where rules have been embedded.
In cases where the system cannot handle the new standard, manual work-arounds and external data manipulation may be required. This leaves you open to errors which regulators will be cracking down on.
Why should your finance system comply with IFRS 15 Revenue Recognition?
Having a system that complies with the new standard will significantly reduce the effort involved in adopting it. Although the new model may appear simple at first glance, each step is supported by a comprehensive set of rules and principles that require the determination of numerous estimates and extensive use of management judgement.
The standard contains almost 350 pages of guidance. As you can imagine, implementing manual workarounds and off system processes to manage this would likely be quite time intensive and costly. The amount of time and effort that would be put into restating information based on the various contracts that you have will feel like a bottomless excel pit every month. Many companies, especially small to midsize businesses, should consider how technology can help them comply with IFRS 15.
Align your system with the IFRS 15 Five-Step Model
Under the new standard, you are required to follow a Five-Step Model to recognise revenue. It is important to align your finance system with this model, which is applied to determine when to recognise revenue earned from a contract with a customer with limited exceptions, regardless of the type of revenue transaction or the industry, and at what amount.
Is your finance system ready for IFRS 15 Revenue Recognition?
Download the checklist to find out: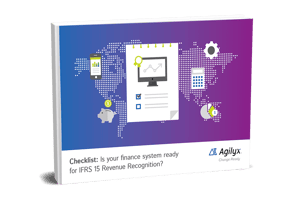 8 requirements you should expect from your financial system

5 finance system considerations in alignment with the IFRS 15 model

The opportunity that IFRS 15 brings to businesses