Using Salesforce CRM in combination with FinancialForce PSA will have a positive impact on sales effectiveness, service delivery, and finance and operations.
Together, Salesforce CRM and FinancialForce PSA will enhance your service execution and improve client relationship management. Attaining higher year over year growth, generating more revenue from new clients, and having more projects per manager are all impacts of having improved visibility and control, resulting in goal driven, fact-based decision making. Salesforce CRM and FinancialForce PSA bring out the best in each other, which in turn brings out the best for your bottom-line. Here are three ways how Salesforce CRM and FinancialForce PSA can effectively streamline and grow your professional service organisation.
1. Sales Effectiveness
Larger sales pipelines and backlog will enhance your organisation's ability to achieve its revenue and margin targets. Having the ability to optimize sales opportunities to their full potential and reducing the length of the sales cycle, results in better working relationships between you and your clients. The fully integrated solution of Salesforce CRM and FinancialForce PSA, gives you a full 360-degree view of your clients; this leads to more effective, goal driven, results focussed and faster decisions being made which, in turn, improve overall sales effectiveness. Shorter sales cycles mean more opportunities and, with a 4.1% increase in profits compared to using CRM alone, a seamless integration of Salesforce CRM and FinancialForce PSA increases service sales, annual PS booking targets, resource utilisation, win ratios, and the number of active clients per year.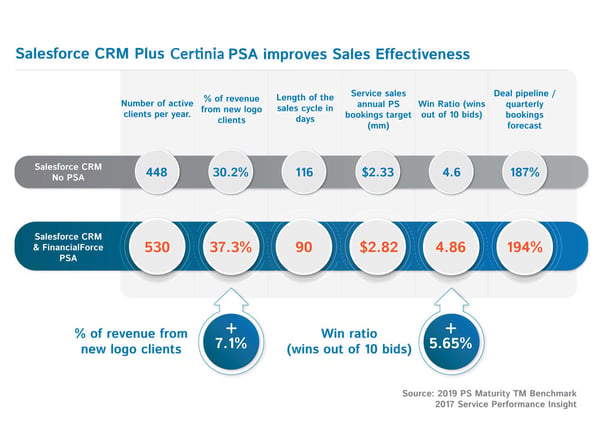 2. Service Delivery
Better visibility and control means that project managers can work on more projects and consultants can spend more time focusing on clients. By allowing enhanced usage of standardised methodologies, tools, and templates provided by FinancialForce PSA, you will achieve results such as, higher billable utilisation and revenue per consultant; this is all due to the improved sales and service delivery cycles provided by a fully integrated solution. Companies that combine Salesforce CRM with FinancialForce PSA see a 15% increase in the number of active clients per year compared to companies that only have CRM. They also see a 7.1% increase in revenue from new logo clients. Not only will your client base grow, but the value of their business to your organisation will increase, all driven by the effectiveness and collaboration offered by FinancialForce PSA.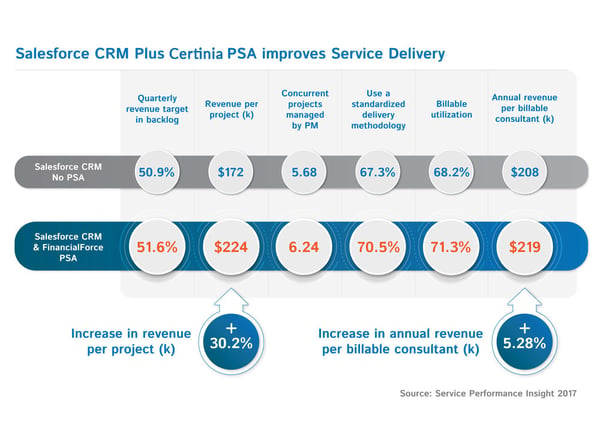 3. Finance and Operations
Higher year over year growth, in both the assimilation of new employees and in PS revenue, is seen due to enhanced real-time executive visibility resulting in better, fact-based decisions. Due to the improved ability to expand through mergers and acquisitions, revenue from new clients increases, which indicates better market expansion and improved sales effectiveness. Compared to other PSAs, FinancialForce PSA has increased new client revenue by 9.6%, the number of projects delivered per year by 310, and profit by 6.3% for a net profile benchmark of 23.2%. FinancialForce PSA allows organisations to handle more clients without increasing administrative staff, resulting in larger project backlogs due to improved sales effectiveness. Additionally, with reduced administration, consultants can spend more time on billable activities; so, not only do they earn more, but they also generate more revenue per project due to sales and delivery collaboration.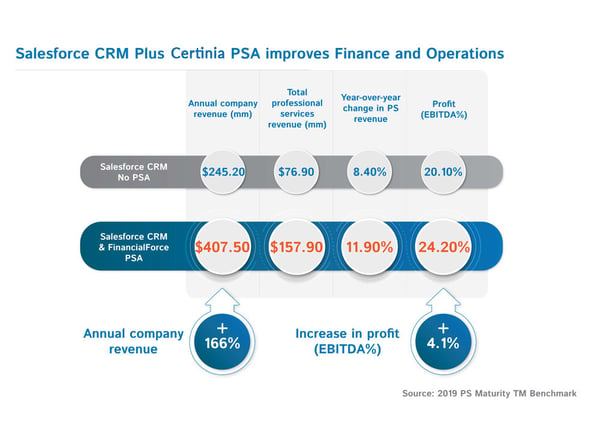 Having access to real-time, live updated, meaningful data, organisational drivers and KPI information not only improves collaboration and decision-making, but it helps to break down functional silos within organisations. Sales effectiveness, service delivery, and finance and operations can be greatly improved through the integration of Salesforce CRM and G2 Crowd's leading PSA application, FinancialForce PSA.