Agilyx Group, a global change-ready, cloud-first, consulting and technology services organisation, today announced a new alliance with Visioneer360, enabler of digital and data-driven transformation, powered by Tableau CRM (Einstein Analytics) and the Salesforce platform.
"We are delighted at the prospect of partnering with Agilyx Group, and combining our best-in-class business intelligence and data visualisation expertise with that of their deep understanding of PSA and ERP applications that are tailored to support a range of industries. More and more organisations in the ANZ region are beginning to understand that their data is the key to unlocking business transformation. This partnership brings together two-industry specialists who are committed to delivering an end-to-end solution that is unparalleled for our mutual clients across this region' said Niranjan Sundararaj, Chief Executive Officer of Visioneer360.
Agilyx Group announced its partnership with Visioneer360 to bring together a true specialist collaboration, dedicated to delivering extraordinary breakthrough advances in analytics, which drive insights and weaponize data using artificial intelligence (AI).
"We are delighted to ink this partnership agreement and make available to our customers the full range of Visioneer360 solutions throughout our ANZ business. Agilyx has an outstanding two decades record of delivery of complex, scale transformation projects for our customers and now we can offer more value to our customers by weaponizing their data to enhance their organisations in ways that haven't been possible before. Embracing the power of the Salesforce platform and the Visioneer360 dashboard solution enables our customers to achieve value faster," says John Catarinich, Chief Executive Officer of Agilyx Group.
Agilyx Group's proven implementation and project delivery management methodology 'The Agilyx Way' leverages two decades of global experience, delivering digital transformations at scale which spurs operational excellence and simplifies complexity. As a full-service partner, Agilyx will sell, design, implement and support the Visioneer360 product across the Salesforce platform to new services-economy customers throughout ANZ.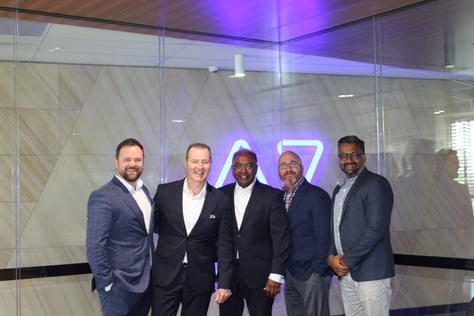 Agilyx Group's Phil Pepper and John Catarinich alongside Visioneer360's Niranjan Sundararaj, Mark Tossell and Niel Moodley
About Agilyx
At Agilyx Group, our purpose is to build better organisations by empowering people at work to be their best. We do that through people, technology and inspired thinking, striving for high performance and value through deep collaborating with our customers globally. As a global change-ready technology services company we deliver transformational technology solutions to people-focused organisations in the Commercial, Government, Education and Not-for-profit sectors.
Working at the intersection of people, technology and change, Agilyx Group has a two decade record of success in the delivery of digital transformation projects for customers globally, leveraging our 'Agilyx Way' delivery methodology and the inspired thinking of our team of professionals across our 7 global locations. As a cloud-first organisation, we work with leading technologies across the ERP, Human Capital Management, Learning & Talent landscape.

Agilyx Group is change ready and our purpose is underwritten by shared values which drive individual behaviours and unlock human ingenuity.
Visit us at www.agilyxgroup.com
About Visioneer360
Visioneer360 helps businesses weaponize their data to guide decision making and enable data-driven transformation across a broad range of industries and organisations. Since launching Visioneer360, we have experienced first-hand the power of business intelligence & data-driven intel. We have over 50 years of combined global experience in business consulting and technology across a range of industries. We understand the importance the value of data and recognise that it is at the core to building internal efficiencies through automation and productivity enhancements on the one hand, and transforming what our clients experience on the outside.
For more information, visit www.visioneer360.com.au.
Trademarks
"Agilyx" is a registered trademark of Agilyx Pty Limited (ACN 091 232 156) and Agilyx NZ Limited (3849436) in Australia and New Zealand. Other Agilyx Group entities including Agilyx United Kingdom, Agilyx Asia, Agilyx North America are authorised licensees of the trademark in their respective regions. The Agilyx logo may not be used without express written permission of Agilyx or one of its licensees.
Salesforce and other brands are among the trademarks of www.salesforce.com, inc.